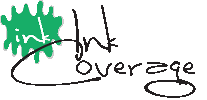 Calculate toner or ink coverage from a pdf file.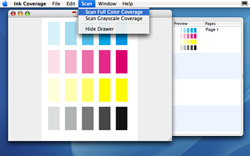 Ink Coverage
Written for the Mac.
This program opens a print ready pdf and will calculate the ink or toner coverage of the file. A perfect solution for needing to know approximately how much a print job will cost before printing it. If you are printing a one sided 8.5x11 in full color it may not matter much - but what if you are printing 500 or a 1000 - then what?
This is a small easy to use application that does one thing - reads ink or toner coverage and gives you the calculated results based on the consumable costs. What if you receive a digital file that has a large solid black background?
Is that background color 100 percent black, or could it have 50 percent magenta and yellow as well?
Takes the guess work out of estimating.
Estimate your printing based on a tool that can measure coverage.
Consistent and predicable quoting.
We created this program to help us in our printing business. We quote our commercial work by finding the coverage and marking it up appropriately. Using print time, paper, and design time, we can be consistent on our quotes.
The web page to our business is hobartprinting.com.
This program can be used to determine the print cost of many digital printers.
Laser, poster, wax, or ink jet printers.
Seven color ink jets can be measured as well.
Try this program free for 30 days. We hope you find it useful.

• Problems with Leopard have been fixed as of version 1.13.
• Problems with Snow is fixed as of version 1.16.
• No problems under Lion.
• Problems with El Capitan fixed as of version 1.175
• Native El Capitan, Siera compiled program, 64 bit, version 2.00


The demo version is the full version.
See the update page for all downloads including version 2.00
Click here to download your free 30 day Ink Coverage© program(version 1.175).

The zipped file contains a dmg. Double click the dmg, find the Ink Coverage Program and drag into the Application folder.
Pdf files are included - For your testing.

Notice
Begining August 1, 2010 - price
$89.00
$59.00
Now - only $59.00 USD.
Click here to buy.
Step 1 - Fill out email address
Step 2 - Review Info - Use Pay Pal Button
(Note: Do not need a Pay Pal account)
This program is also featured on File Fishstick. They also have the demo to download, however it is out of date. If you download this one, be sure to check for updates in the inkcoverage - File->Check for Updates.


downloading Ink Coverage on File Fishstick